There are many online slot games on the market. They are chance-based casino games, while others are mainly involved in skills and strategies. Players continuously ask online forums about the available options that they can check out. 
So, we decided to list the top three exciting best online slot games to win real money. If you are one of those players, you can check this post and play the ones that seem interesting. 
#1 Extra Juicy 
Extra Juicy has one of the best fast-paced reels to keep you on the edge of your seat! This Riversweeps casino slot game has a retro fruit machine aesthetic, so you may find it familiar. In addition, the game has a similar feel to traditional mechanical slot machines.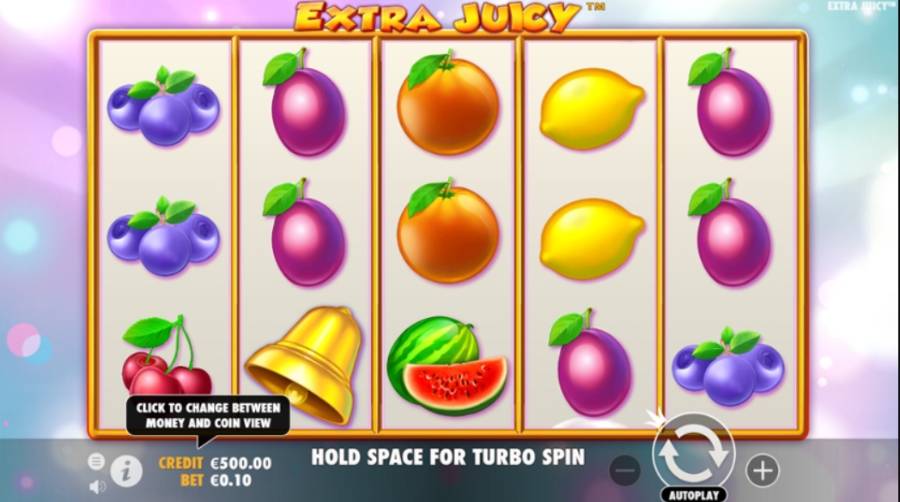 But its bright, up-to-date visuals make it appealing for players of all types. The game's visuals are excellent, except for the symbols, all variants of the number 7. 
Unless you have exceptionally high standards for graphical quality in online slots, this shouldn't be too much of a problem. 
Extra Juicy has a return-to-player percentage of 97.1%. It's a slot machine with medium volatility. So you can expect to win frequently and have fun doing it. 
#2 Wild Stars 
If you are into fruit slot machine games, but the previous game looks too modern for your classic taste, then the Wild Stars slot will definitely become your favorite. 
This is a classic 3-reel fruit slot with 9 paylines. All lines are active and allow you to bet a maximum of 45 coins per spin. Wild Stars is a classic slot game with massive payouts. So, activate all lines to get the maximum outcome.
The game's highest-paying symbol is a wild icon. It can substitute all others to bring you the highest winning combinations. And besides that, each wild comes with a 2x multiplier to maximize your winnings.
If you're fortunate and land 3 wilds, you get an instant 3,000 coin payout!
#3 Golden Book
It is time for an exotic voyage to India. So, get ready and enter the Golden Book slot game with us!
This is a unique 5-reel slot game with 4 rows on each reel. The game gives you 576 fixed winning combinations, which means you get numerous chances to land a cash prize. The betting range per spin varies from 10 to 5,000 credits. This wide range allows players with any budget to get the ultimate gambling satisfaction.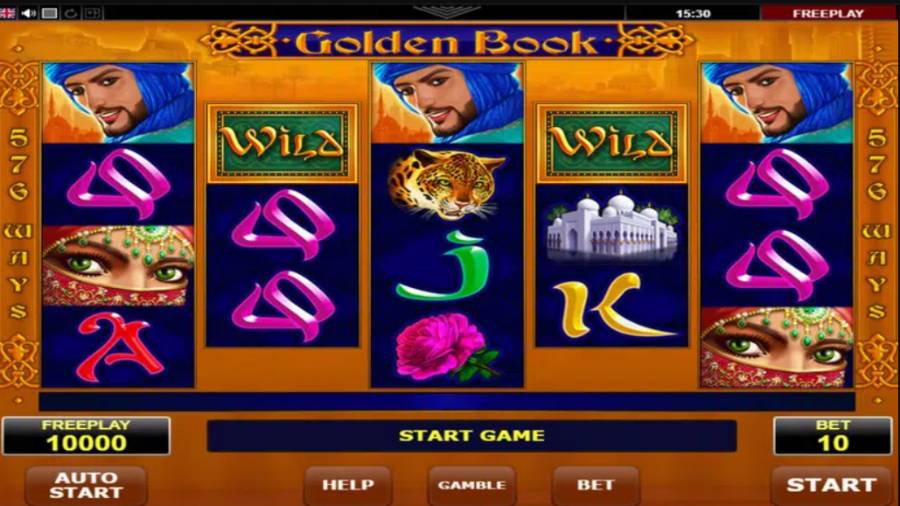 When spinning the reels, you see various attractive symbols, including a prince, a princess, the Golden Book scatter, and a wild green bar. The scatter symbol combinations allow you to trigger the free spins bonus many times. And the wild helps you land the highest-winning combos. 
Free Slot Games To Play Online #4 Ted
Ted is another one on the list of the best online slot games. It is a very entertaining and catchy free online slot games title with lots of cool features. Although it is new to the gambling industry, many sides of Ted made this game very popular among the casino audience. 
Some of those features will be covered in this article. If you want to experience the first hand, you need to check this game. Blueprint Gaming developed these free online slot games no download titles in 2019. 
It is a branded online slot games title. They got inspiration from the cartoon movie Tedd and came up with this best free online casino slot games name. The main screen and interface feature various objects and characters from the movie. While you are playing the slot, a cute teddy bear will live in the background and go through the adventures. 
Online slot adaptations of cartoons are always a fun way to approach, and this one is an exceptionally hilarious game. There are five reels in the game. In addition to that, players will get 20 fixed pay lines. 
Best Features Of The Ted Casino Game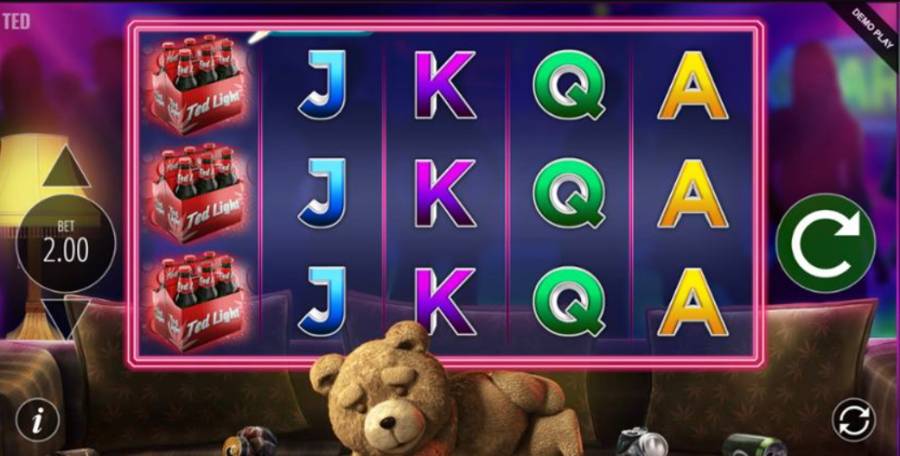 You can deposit up to 10 dollars per line while playing Ted. The Return to Player Rate of the game is 95.81 percent. It is relatively high for these types of online slot games for real money. So, you can expect some great payouts while entering these best free online casino slot games machines. 
In addition to the above-average Return to Player Rate of the game, there are also five different bonus rounds that you can enjoy. The availability of five additional unlockable bonus rounds is one of the unique features you can find in this game. 
It would help if you lined up at least three scatters to activate the bonus's first round. From that time, whenever you line up the exact combination, you will get a chance to trigger another bonus. Besides these, there are random multipliers triggered when the main character of the game wakes up from his night sleep. 
Overall, Ted is among the top online sweeps games in this genre. If you have not played it yet, make sure to check this exciting free online casino slot games title out as soon as you enter the online gambling website. 
#5 Divine Fortune
Another online casino slot games pick that has been successfull in the past few years is the Divine Fortune. It is an exciting game, especially for those who like mythic themes. Net Entertainment developed this free online slot games title in 2017. Since its initial release, it gained massive popularity among gambling players. 
The strange look and exciting gameplay of the slot made this one famous. There are five reels and three rows in this casino game. Alongside that, you will have 20 different pay lines.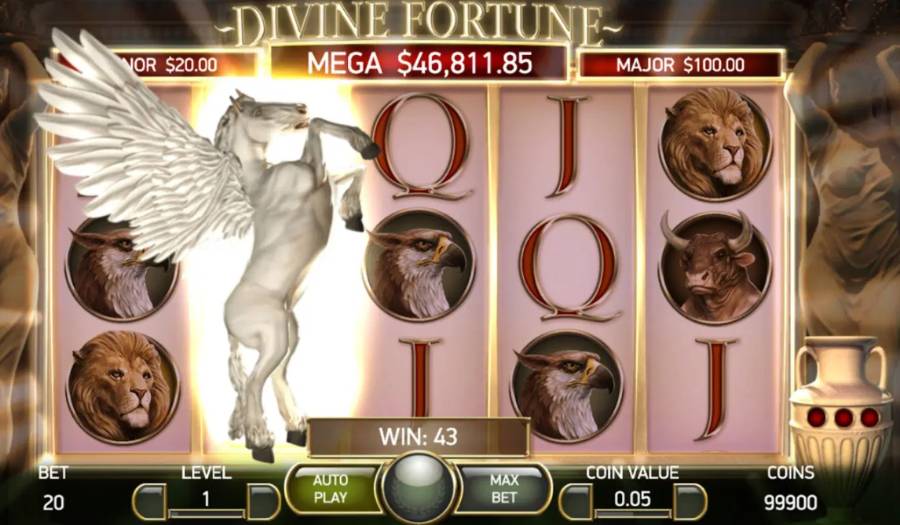 On each of those active lines, players will have the option to wager around one up to 25 dollars. Many opportunities are waiting for you in this gambling game. The Return to player rate for the Rivers sweepstakes games Divine Fortune is around 96.55 percent. 
As you can see, the house edge is less than 4 percent, which is rare for this caliber of free slot games to play online. Overall, it is an exciting online gambling game that you need to try. 
FAQ
How to play online slot games?
To play online slot games, you simply need to find a legitimate gambling provider. After registering at the casino and verifying your account, you can enter any game, bet according to your budget, and wait for the outcome.
For the best experience, register at River Monster Casino immediately!
How do online slot games work?
Online slot games for real money work the same way as regular slot machines. You choose the game, bet the amount you want, spin the reels, and wait for the results. 
For the best gaming experience, check out the best free online casino slot games from this article.
How to win slot games online?
Slots are chance-based games. It means that there are no winning strategies or tricks that will make you a winner. However, you can always choose the title that aligns with your goals. Also, keep in mind to play responsibly and control your budget.
What are the best slot games to play online?
Some of the best online slot games in 2023 are reviewed in this article. Check out Gonzo's Quest, Ted, and Divine Fortune for the best gaming experience.
What online slot games pay real money?
All the slot games on legitimate gaming platforms, such as River Monster, pay real money. You just need to register at the casino, enter any free online casino slot games, play them with bonuses from the casino, and receive real cashouts.
Register now for the best experience!
What is the best online slot game?
Some of the best free slot games to play online are Gono's Quest, Ted, and Devine Fortune. Check their features above and play them on River Monster now.
What are the best free online slots?
Some of the best free online slot machine games you can play on River Monster include Ted, Gonzo's Quest, and Divine Fortune. These games are available on the casino for real payouts, and you can play them with free cash once you're registered.
How do I choose the right online slot game? 
For the best experience, you need to check out the game's features. Before starting to play, check what's the RTP of the specific game and its volatility. Make sure your chosen game aligns with your budget. For instance, high-roller slots have higher betting limits, which means you won't be able to play it with modest bets.
Is there a strategy for winning at online slot games?
Free online slot games no download are chance-based titles. It means that there is no strategy or tips that will make you a winner in the game. It's all about luck and choosing the game you enjoy the most.
Final Thoughts
Online slot games are the most popular gambling genre in the market. There are numerous available titles online. However, if you want to play the best, check the top 3 games discussed above.
These games are available on River Monster Casino, and you can play them for free with the exciting promotions. Register right away, get your free cash, and enjoy gaming at its finest!
Post Tags